Throughout history many symbols have represented the geometry of the wheel. It is the case of the ancient solar symbologies, like the swastika, the spiral and the Camunian Rose. Instead, in the Middle Age there was a more complex set of significations relating to the concept of the wheel of fortune.
This figurative expression originated from the work and theological and philosophical interpretations by Saint Severino Boezio and the Scholasticism. In particular, Boezio contributed to define the fortune according to the Christian religion. The philosopher (475/477-524/526), martyr during the reign of Theodoric, wrote: "the case is the product of the order that, proceeding by inevitable connection, descends from Providence by arranging things in specific places and times" [1]. This point of view about the fortune was dominant at least until the Enlightenment and greatly influenced the vision of the world and the reality during the Middle Age. Hence, for a medieval man the case did not exist like in the modern meaning, in probabilistic and stochastic terms. Instead, it was the expression of God's will.
The symbology of the wheel
The symbology of the wheel of fortune is the exact expression of this theological vision. Its iconography, in fact, represents a wheel with twelve rays, whose upper portion hosts the sculpted effigy of God. Around the circumference there are some figures of men, who ideally rotate together with the rays. These figures are the personification of the Christians, who can proceed towards God through the Providence, and this is the expression of the fortune, or in the opposite direction towards the hell.
The wheel of the fortune was often sculpted on the facade of cathedrals or religious buildings as conversion or abandonment to God admonishment, but there are also representations on floors or paintings.
An additional meaning of the wheel of the fortune is the one connected to the transience and uncertainty of the temporal power of the rulers, who are always subjected to the God's will, in order not to forget that, sooner or later, they have to leave everything to God, as well as the other men.
Samuele Corrente Naso
(Translation by Daniela Campus)
NOTE
[1] De Consolatione philosophiae.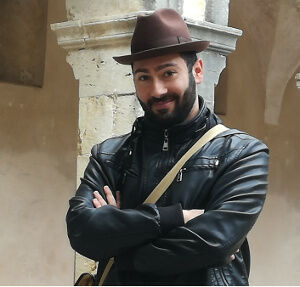 Samuele is the founder of Indagini e Misteri, a reason for being perhaps philosophical, vaguely existential and anthropological enough. He has a degree in biological sciences and forensic biology. For pleasure he look for transcendence through unusual and antiquated things, like uncertain symbolisms or enigmatic apotropaic rites. He pursues the mystery through the adventure but that, inexplicably, is always one step ahead.