4. The Honest Woman of Venice
"When a honest woman will pass over the bridge, the bridge will collapse; but so far the bridge has not collapsed yet". [Ancient Venetian saying]
The legend of the Honest Woman
A curious legend, told from centuries in the suburbs of the enchanting Venice, has led us to the San Polo sestiere. Here there is a particular place, known as the "Foundation of the Honest Woman", located near the homonymous wrought iron bridge. This structure is certainly the reconstruction of an older crossing, although it is not known if it collapsed by itself or it was destroyed by men.
This peculiarity is not trivial, since it constitutes the necessary prelude to reconstruct the myth of the Venetian Honest Woman. In fact, it is known that two friends were talking about the feminine virtues, when suddenly one of them asked to his friend: "Do you know who is the most honest womam among the ones I knwe?". With great bitterness he indicated the face of a woman carved in a stone, that was set in the wall of the building opposite. Since then, the saying that the bridge would collapse when a honest woman will cross spreads in the city.
The face of the Honest Woman.
The legend of the Santina
A parallel and not necessarily alternative legend tells that a Venetian woman with great virtues of honesty and loyalty lived in that place. According to the tradition, Santina was the wife of the swordsmith, Battista. After Marchetto Rizzo, a noble of the city, entered the shop of her husband to rape her, she stabbed herself to death for the shame.
Is it possible that the carved face of the Honest Woman, located near the Fondamenta, is a memory of the loyalty of Santina, the swordsmith's wife?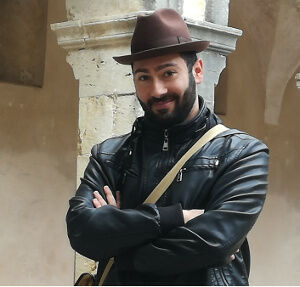 Samuele is the founder of Indagini e Misteri, a reason for being perhaps philosophical, vaguely existential and anthropological enough. He has a degree in biological sciences and forensic biology. For pleasure he look for transcendence through unusual and antiquated things, like uncertain symbolisms or enigmatic apotropaic rites. He pursues the mystery through the adventure but that, inexplicably, is always one step ahead.