2. The mysterious Ca' Dario in Venice
There are numerous legends, stories of ghosts and curses linked to Venice. Some of them are part of the oral and cultural tradition, some others seem confirmed by indisputable facts, that are supported by true folk tales, obviously! All of these tales make Venice a mysterious place; the city itself, perfect in all its details, seems to hover like a ghost. A place with a powerful past and glories, made unchanging and unchanged overtime. Today wonderful and sad like a Queen who eternally reflect in her lagoon, with its slow pace always equal to itself.
A particular story is linked to a historical palace of Venice [5]. Particularly, the fate of people who want to be the owner seems to be damned. The known Ca' Dario was constructed by the will of Giovanni Dario, secretary of the Republic of Venice, in 1474. This Palace, typically of Renaissance, overlooks the Grand Canal and represents one of the best architectures of the Dorsoduro sestiere.
The malediction of Ca' Dario
Since its construction, a sad end seems to affect the owners: suicides, murders, accidental deaths frequently hit them. Giovanni Dario's daughter, Marietta, committed suicide after the violent death of her husband, Vincenzo Barbaro, who was stubbed. The heir, Giacomo, died in an ambush. Since then at least 10 deaths were accerted from 1700 to until now [6].
Now it is not clear if the building has an owner, because since 2006 it is entrusted to an American real estate agency that is not able to sell it to anyone.
Palazzo Dario at the center.
Claude Monet, Palazzo Dario
The fame of the damned palace is known everywhere and name it causes fear to the inhabitants of Venice. Someone tried to anagram the building's harmless welcome greeting, "urbis genio ioannes Darius", with the more terrifying "sub ruina insidiosa genero (I generate dangers to those who live there)".
Is it a warning message for posterity or only a suggestion? However, the Venetians prefer to stay away from the cursed Ca' Dario.
NOTES
[5] Sestiere Dorsoduro, number 353, almost at the end of the Gran Canal. [6] To know more: https://it.wikipedia.org/wiki/Ca%27_Dario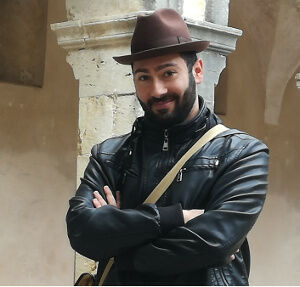 Samuele is the founder of Indagini e Misteri, a reason for being perhaps philosophical, vaguely existential and anthropological enough. He has a degree in biological sciences and forensic biology. For pleasure he look for transcendence through unusual and antiquated things, like uncertain symbolisms or enigmatic apotropaic rites. He pursues the mystery through the adventure but that, inexplicably, is always one step ahead.